One of the problems facing waste management companies is the reduction of the amount of area available for the disposal of waste material. As society grows and production increases, landfills are rapidly filling, making it difficult to find locations to dispose of the tons of waste that are collected every month. One of the solutions to this growing problem are wastewater evaporators that extract moisture from waste to significantly reduce waste volume. Read More…
Wastewater Evaporators
One of the problems facing waste management companies is the reduction of the amount of area available for the disposal of waste material. As society grows and production increases, landfills are rapidly filling, making it difficult to find locations to dispose of the tons of waste that are collected every month.
We are EZ Industrial Equipment, a leading provider of high-quality wastewater evaporators and industrial parts washers. With our extensive expertise and state-of-the-art technology, we are committed to delivering top-notch products and services to meet the unique needs of our customers.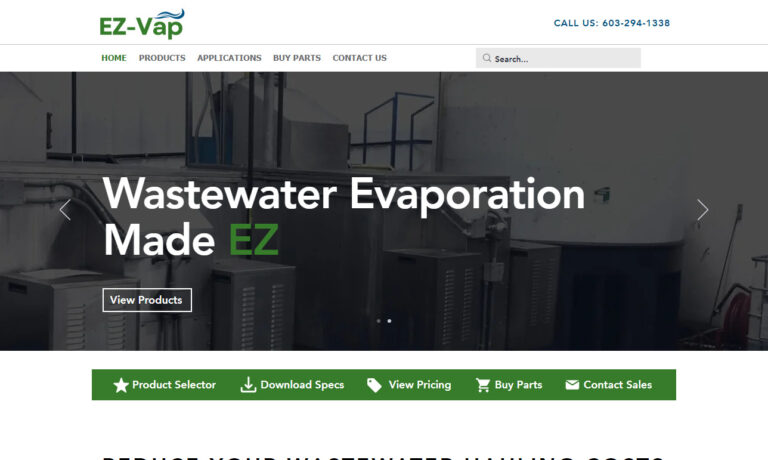 $$$
Get Your Company Listed
These highly technical devices use various methods to extract the moisture in waste to leave residual materials for proper disposal. Water makes up a significant portion of waste material. By extracting it, the amount of waste is substantially diminished.
The two processes used to remove water content from waste are thermodynamic and mass transfer phenomena. Both methods employ heat to bring wastewater to the boiling point. The method for producing the heat varies but includes electrical, gas, and steam. The variations in the type of heat also applies to how the heat is applied where come forms use heat transfer, while other methods have an exterior heat source.
The wastewater evaporation extraction process is an answer to the ever-growing restrictions being place on industry by the Environmental Protection Agency (EPA), which sets the percentage of allowable contaminants that can be disposed of in landfills. The more stringent standards and concern for the environment have motivated producers to develop safe, efficient, and cost-effective methods for industries to use to reduce their waste material.
Of the two wastewater evaporator methods, the thermodynamic method has become the most used. The process begins with the feeding of wastewater into the wastewater evaporator, where it is heated to produce vapor that is removed by a blower. The efficiency of this method depends on the type of heating method, which is designed to increase the rate of vaporization and the concentration of the remaining materials.
The mass transfer phenomena method is the continuation of a process that has been used for thousands of years. Wastewater is heated to the boiling point. As the waste material boils, it releases droplets of water that are blow off through a filter designed to trap contaminants and other particulates.
It is very likely that the popularity of wastewater evaporators will rapidly grow in the coming years since they provide a safe, clean, efficient, and economical method for the reduction of the volume of waste material.