Automotive Parts Washers
Automotive parts washers are equipment that uses water and detergents substantially less expensively, and typically have a longer lifespan than other options. Automotive parts may acquire dirt, grease, oils, and other impurities during manufacturing or use on the road, which could endanger the equipment's safety and operation. Additionally, unfinished vehicle parts must be cleaned before they can be put together or go through the surface finishing procedure. We utilize automotive parts washers to clean automobile parts, whether they are brand-new or worn. Most manufacturing or maintenance operations for auto components employ washers to clean parts and components. Read More…
Automotive Parts Washers
Automotive parts washers are machines used to clean newly manufactured and used automobile parts.
These machines include cold-cleaning models, vapor-degreasing machines, and conveyor-style degreasers. Dirt and filth are dissolved with solvents. For people worried about the environment, this equipment uses biodegradable and environmentally benign solutions. These systems don't leave any residue or coatings on the materials because they use hot water and solvents. These water-based car parts washers can thoroughly clean various objects, from tiny computer parts to substantial auto parts like transmissions.
How an Automotive Parts Washer Works
Automotive parts washers are essentially industrial robots that automatically pump cleaning solutions onto conveyors, via baskets, or into cabinets. To clean and prepare parts, this modern industrial technology combines a cleaning and finishing through immersion or spraying to disperse a chemical or water-based fluid that removes impurities from surfaces. Systems for cleaning mechanical parts load, rinse, dry, and unload the components. Chemical solvents in unstable, high-temperature, high-pressure environments are the main cause of the dangers associated with parts washing. Since solvents are dangerous substances, extra care must be taken to prevent mishaps and harm to system users. In addition, the need for non-toxic cleaning products is being driven by environmental restrictions for wastewater treatment.
Design of Automotive Parts Washers
Many automotive parts can be cleaned using a regular parts washer, but other parts cleaners are specifically used in the automotive sector. Aqueous hot water solutions are commonly used in cleaning processes in ultrasonic cleaning tubs and automobile parts washers, for instance. In vehicle repair businesses, tub or cabinet spray washers are frequently employed, and organic biodegradable solvents are used for the best effectiveness. A power nozzle, water heater, filtration system, one or more pumps, scrubbers, brushes, and other components can all be found in an industrial automobile parts washer. The design of the parts washer considers the parts' size and complexity, the cleaning capacity, and the cleaning degreaser product utilized. Enclosed parts washer designs keep workspaces clean and enhance user safety while removing exposure, splashing, or mist. Conveyor belts, monorails, rotating drums, and cabinets are a few examples of systems. In addition, the requirement for hand scrubbing is eliminated by automated parts washers.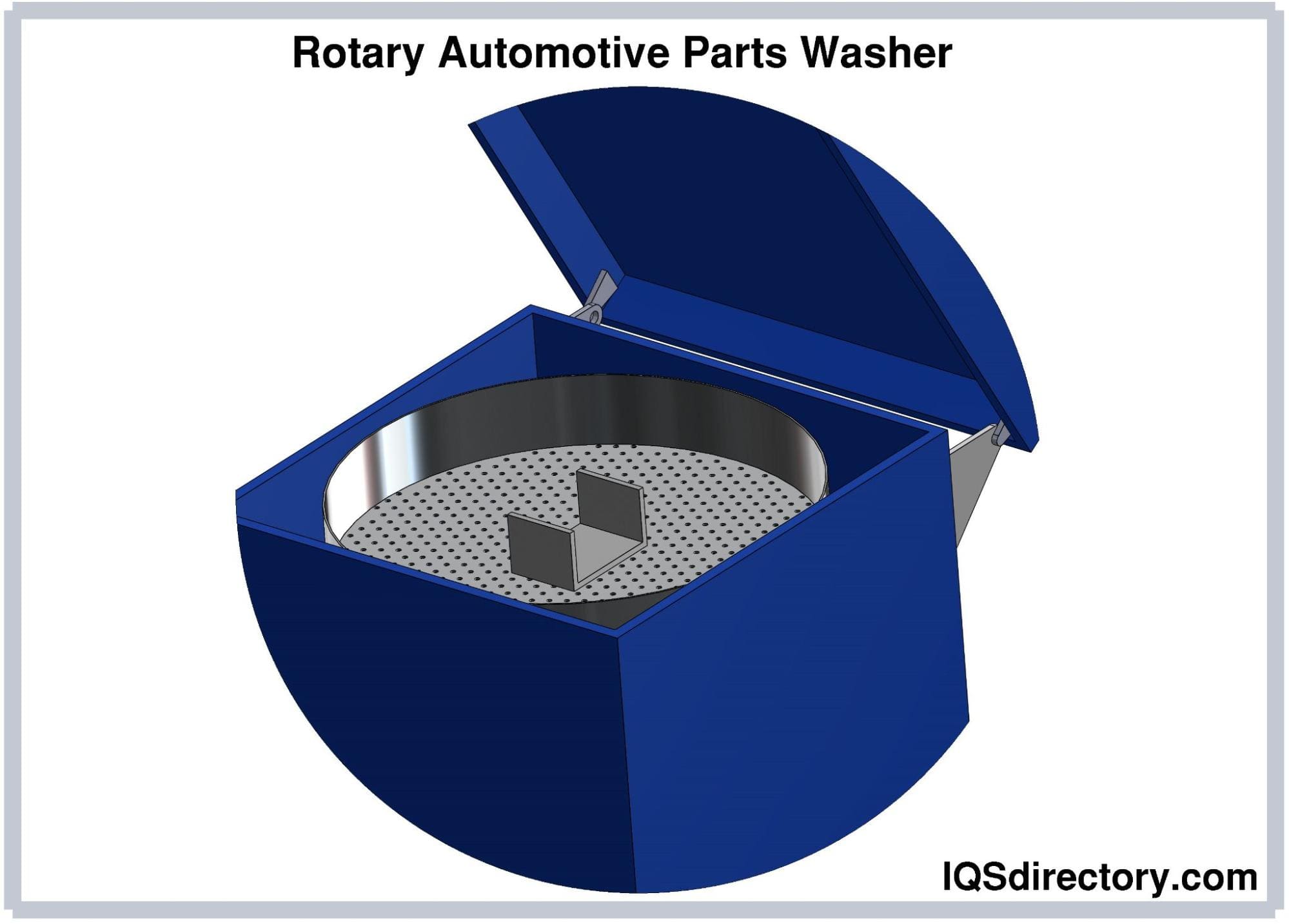 Components of Automotive Parts Washers
Cabinet - Cleaning solutions can be applied to parts under high pressure inside a cabinet that may have a conveyor belt for added safety. A cabinet-style parts washer must tolerate a cleaning degreaser under constant, high-pressure cleaning. When the system is powered, the cleaning agent or water goes through two filters; the first filter sifts out large particles, and the second filter removes minute particles.
Low Water Shutoff - If the water level in the cleaning solution storage tank drops to the point where the heater is exposed, an automated low water shutoff valve automatically shuts off the machine. It forbids restarting it until the water level is raised.
Pumps - In a parts washer, the pumps continually pump water from the storage reservoir to the cleaning tank while submerging in the cleaning solution. Industrial parts washers operate at 185° F and flow 115 gallons per minute (GPM) at 65 psi. Therefore, the cleaning solution may not flow effectively if these conditions are not kept up.
Scrubbers - Brushes or sprayers can serve as scrubbers in a parts washer. A pump transfers the cleaning degreaser for parts cleaning from the storage reservoir to the scrubbing mechanism.
Water Heater - Using electric, gas, or steam heating equipment to raise the temperature of cleaning solutions speeds up chemical reactions and shortens the cleaning process.
Types of Cleaning Agents
Regarding automobile parts washers, there are two main categories of cleaning agents to pick from- aqueous and solvent cleaners. However, the two mediums differ significantly from one another. Aqueous cleaners are more environmentally friendly, but solvents have a reputation for excellent performance. Therefore, the decision of which solution to employ is presented to individuals who operate parts-cleaning equipment.
Benefits of Automotive Parts Washer Systems
Automotive parts washers are strong and practical, saving time and money. Simply pace the parts in the washer, shut the door, set the timer, and the components will be clean and oil-free in a short while. A solvent tank-size washer is about as big as a fully self-contained washer. Grime, oil, and grease are removed using hot water and biodegradable detergents. The wash solution does not re-deposit on the parts; it stays cleaner. The oil skimmer removes petroleum products that are afloat. Hot water and biodegradable detergents are used to run the washers. Aerosol cleaners and harmful solvents are no longer necessary as a result. That implies low disposal expenses.
Uses of Automotive Part Washers
Over time, vehicle parts can gather dirt and other impurities. These pollutants can accumulate and harm an engine or other automotive part. 'Therefore, automobile parts washers are essential to maintain the performance of engines and all automotive components. Repairing a vehicle's damaged parts may be less expensive than replacing them. Thoroughly cleaning the vehicle component is an important step in the repair process. By thoroughly and carefully cleaning them, automotive parts washers can help restore the condition of the component. Some manufacturers make industrial parts washers to clean small parts, hydraulic parts, pneumatic parts, transmission parts, and small engines.
Selecting the Right Automotive Parts Washer Manufacturer
To ensure you have the most positive outcome when purchasing an automotive parts washer from an automotive parts washer manufacturer, it is important to compare several companies using our directory of automotive parts washer manufacturers. Each automotive parts washer manufacturer has a business profile page highlighting their areas of experience and capabilities, along with a contact form to directly communicate with the manufacturer for more information or request a quote. Review each automotive parts washer business website using our proprietary website previewer to quickly learn what each company specializes in. Then, use our simple RFQ form to contact multiple automotive parts washer companies using the same form.
Automotive Parts Washers Informational Videos